DivIDE SYSTEMS - +DivIDE
---
+DivIDE is an adaptation of the GDOS/G+DOS system found in the DISCiPLE/+D disk interfaces. It should work with all DISCiPLE and +D software which doesn't call routines in GDOS/G+DOS ROM directly. +DivIDE uses virtual disks of 1600 sectors each on the ATA drive. Certain GDOS/G+DOS features are extended and improved. NOTE: +DivIDE uses raw LBA access to disk images so take care if you're hosting another file system on your disk.
+DivIDE MANGER - FORMATTING MEDIUM (step by step)
- Format medium (hdd/cf) to FAT (FAT 16) on PC

- Open +DivIDE MANGER and select medium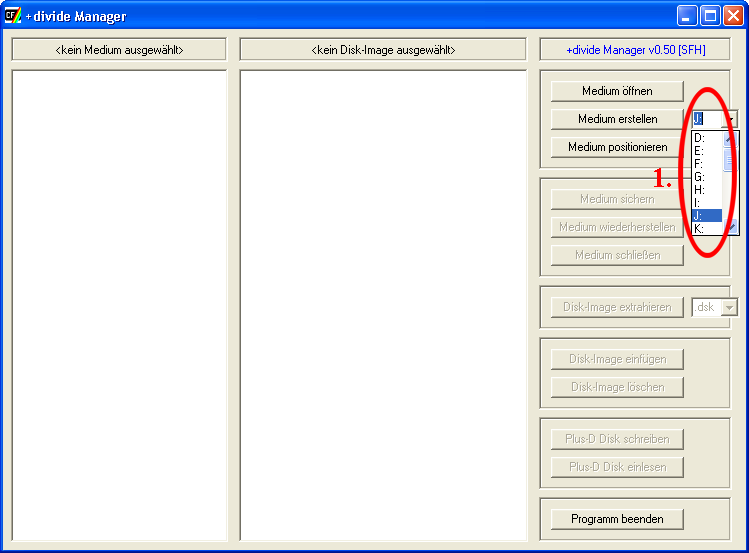 - Create new +D discs as one long .img file on clear medium (clear = FAT16 formatted)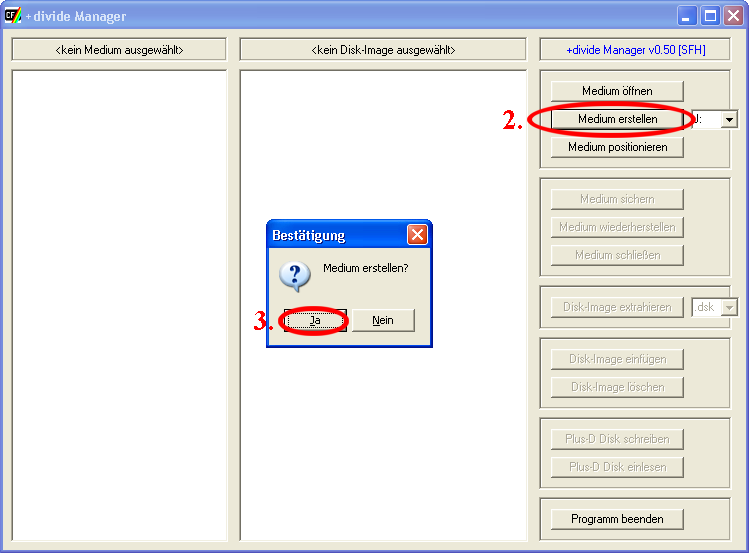 - Change number of new virtual +D(800kB) discs. Default is full medium/maximum.
( please select less number than max/default value - on medium will free space for other files )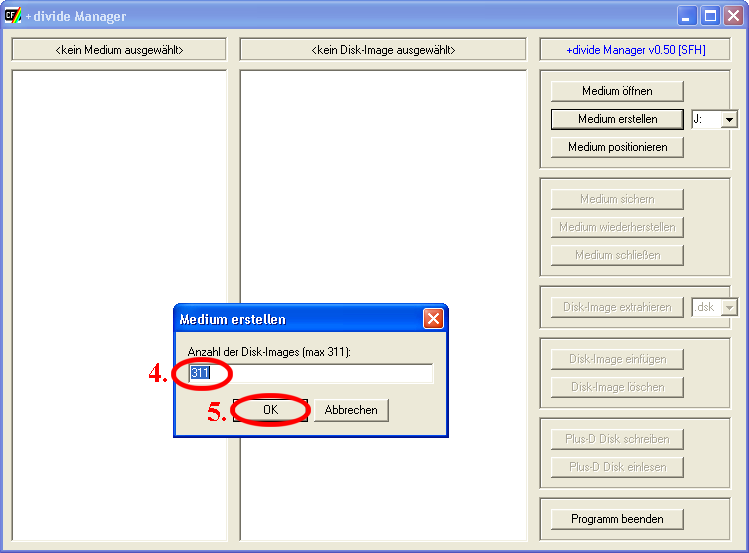 - Wait to 100% creating of .img file on medium (.img file = joined +D images)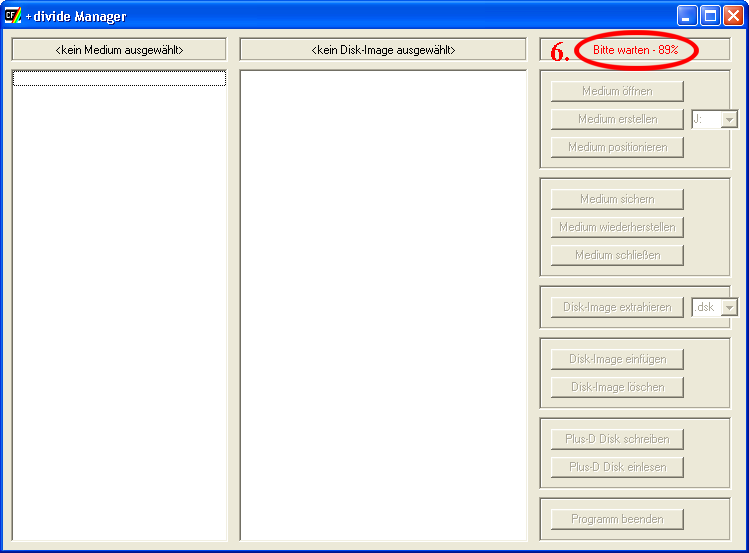 - After create .img file press "OK"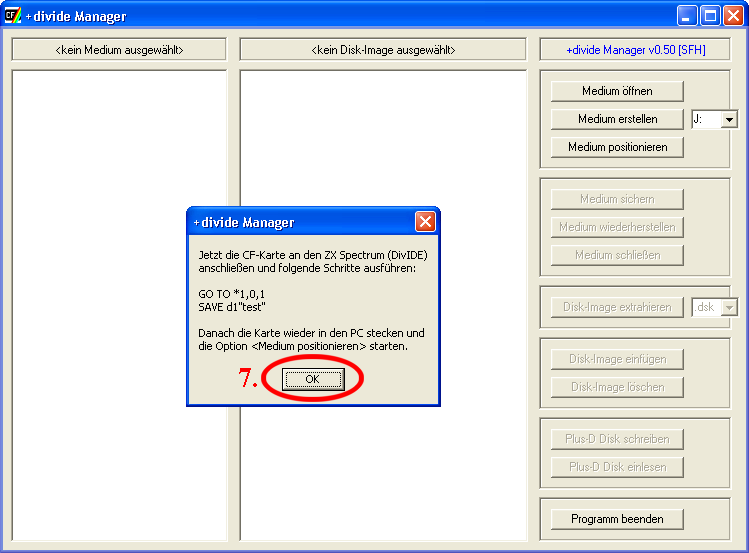 - Copy +DIVIDE installation .TAP file to medium (after .img file)
- Connect medium to ZX Spectrum with DivIDE interface

- Switch on ZX Spectrum and load (in FATware) installation TAP file
- Install +DivIDE system (with closed jumper JP2 = install to mapram mode only)
(+DivIDE work only in 48 basic - on ZX128+2A/+3 you must go to "USR 0" or "48 BASIC" mode)
- In 48 basic write this commands: GO TO *1,0,1 : SAVE d1"test"
Example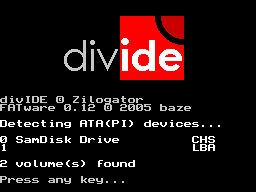 - Eject medium from ZX

- Connect medium to PC and open +DivIDE MANGER
Points 8 and 9 will write correct LBA position of .img file to medium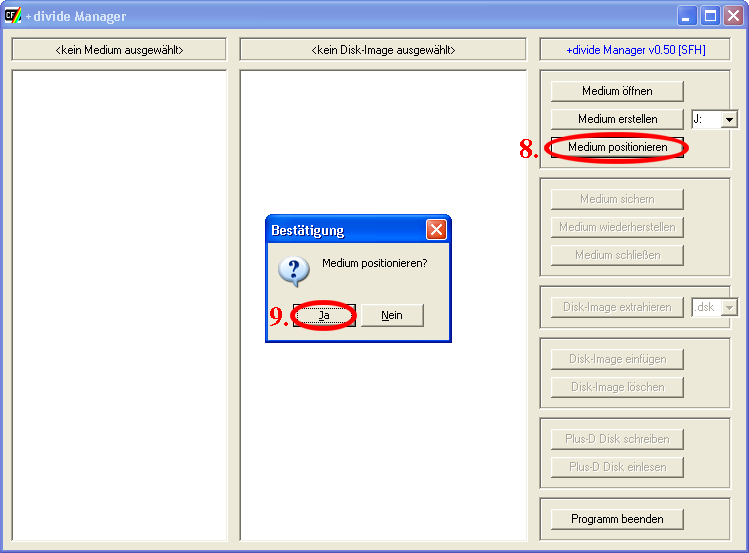 - It's +D images list in .img file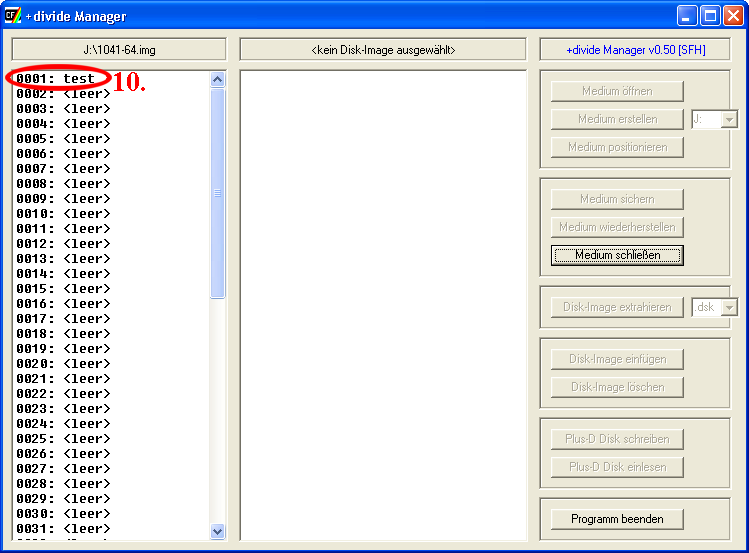 - before eject medium from PC you must press button "Medium schliesen"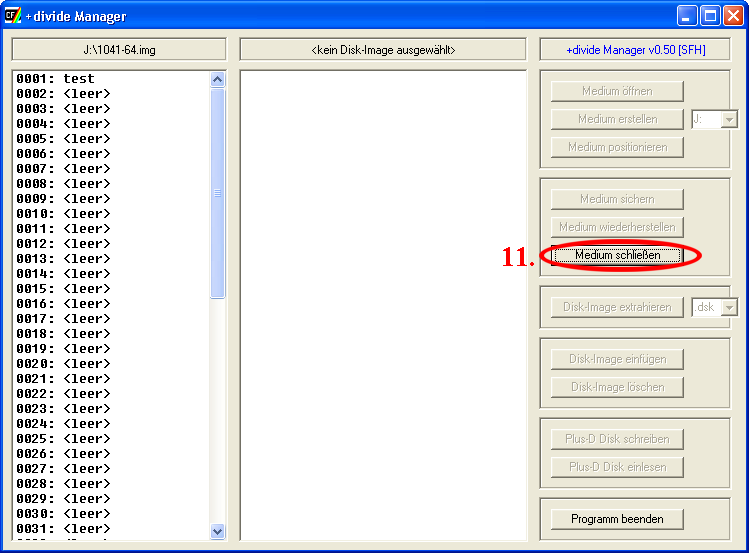 ---
ENGLISH DESCRIPTION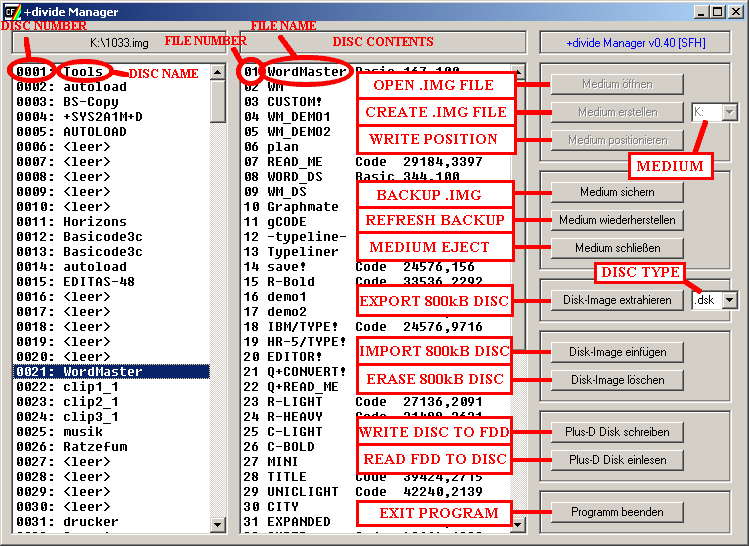 +DivIDE - SYSTEM
+DivIDE - last official version (work with ZX 16/48). On +2A/+3 need USR 0 mode
+DivIDE - patched version (work with ZX 16/48/128/+2(grey) ). Automatic USR 0

( soucre code of patch )
+DivIDE - PC UTILITIES / SOFTWARE
+DivIDE manager v1.00 english - Manager for +DivIDE discs (images on HDD/CF)
+DivIDE manager v1.00 deutsch - Manager for +DivIDE discs (images on HDD/CF)
+DivIDE manager v0.50 (deutsh) - Manager for +DivIDE discs (images on HDD/CF)
+DivIDE manager v0.50 (unofficial english version) - same version with english text
SamDisk utility for +D images (.mgt ) and HDD/CF images (.HDF) for ZX emulators
( >>> by Simon Owen <<< )

example of create HDF image from CF card



example of write HDF image to CF card



+DivIDE - ZX UTILITIES
D48 COPIER - +DivIDE version of Tonnie Staps COPY utility
TORNADO ASSEMBLER - assembler for +DivIDE
+DivIDE - LINKS
+DivIDE - official web
+DivIDE info (CZ)
+DivIDE manual (CZ)
+D manuals (EN)
+DivIDE MANAGER - official web
Disciple/+D Tools
+D SOFTWARE - LINKS
World Of Spectrum - Archive of +D software
Black Raven game - +D version (with support amiga mouse on port 31)